The Top 7 Places to Grab Drinks in the Turks & Caicos
The time has arrived: You're on vacation in the Turks & Caicos. Time to hit the town and experience the Caribbean nightlife. We're talking about oceanfront views, stunning sunsets, island-inspired tapas and refreshing cocktails — and you can enjoy it all with your toes in the sand.
1. Magnolia
Even the highly regarded Fodor's recommends Magnolia, not only as a place to dine, but also to watch an out-of-this-world sunset. Situated high on a bluff overlooking the Turtle Cove Marina, Magnolia offers an impressive list of specialty wines and various cocktails. Try some dessert with your appellation of  choice: the Banoffee Pie (bananas and toffee on a graham cracker crust with whipped cream, YUM) and the vanilla-roasted strawberries drowned in port-reduction wine are not to be missed.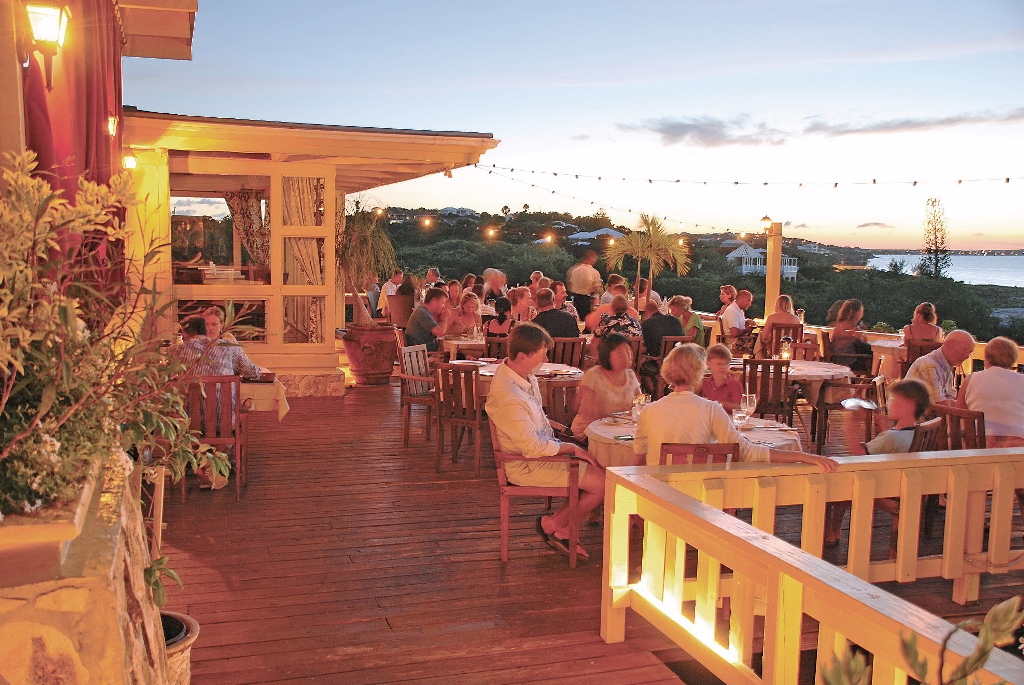 2. Bay Bistro
Bay Bistro is located at the Sibonne Beach Hotel, just steps away from the gentle waves of Grace Bay Beach. Indeed, Bay Bistro offers some of the island's best panoramic ocean views because of its close proximity to the water, making it the ultimate location to enjoy your choice of sweet cocktails, vintage rums and other fine spirits. Watch the sun set in dramatic fashion, as the sky changes from hues of orchid to lavender to deep mauves to violet and, finally, to deep cobalt. Palm trees, tiki torches and lush greenery complete the scene, all with a gentle sea breeze. This is island nightlife at its best.
3. Infiniti Bar
Hip and vanguard, the Infiniti Bar at the award-winning luxury resort Grace Bay Club is the place to be on a Friday night. The stylish ambiance created by glowing lanterns, plush intimate seating and smooth tunes makes this the perfect place to grab some martinis or champagne.  Sit oceanside with your friends under a blissfully starry night.
The Infiniti Bar is the longest bar in the Caribbean at 90 feet, stretching from the hotel to the shores of Grace Bay Beach. It is the first infinity-edge bar in the world and features a creative menu offering tapas dishes and delicious cocktails, in addition to full restaurant service.
4. Stelle Bistro
Upscale, sleek and chic, Stelle Bistro turns into a late-night lounge after dinner, open until midnight on Fridays and Saturdays. Located at the Wymara Resort, Stelle is a trendy spot where locals and tourists alike converge on the weekend as the DJ spins, the lights dim and ambiance chilled.
5. The Deck
Enjoy island-inspired light fare and sundowners overlooking Grace Bay. With occasional live entertainment, fire pits, a tasty menu, fully stocked cocktail bar and an interesting menu, this is the perfect spot to relax, enjoy the ambiance and savor your Caribbean vacation.
The Deck Restaurant is located at the Seven Stars Resort, a luxury island resort nestled on the world-famous Grace Bay Beach.
6. 72° West
With fire pits and comfortable couches for lounging, 72°West at The Palms is a popular place to spend evenings under the stars. Delight in a family-friendly, Caribbean-inspired menu offering enjoyably simple, lighter fare – chilled, grilled and filled with flavor.
Lunch is served throughout the day on the lower pool deck tucked between the serpentine infinity pool and the beach. Dinner is served seasonally.
7. Danny Buoy's
Want a cold beer with your friends? How about a tall glass of pitch black Guinness? How about a game of darts? Get your party on at Danny Buoy's, the islands' only authentic British-style pub. With imported draughts and the islands' largest single malt selection, DB's offers good times all around. Weekly events such as karaoke on Tuesdays and Thursdays, and a DJ dance party on Saturdays promise lively amusement into the wee hours of the morning. Fine Cuban cigars, high stakes casino video poker and sports games on the Satellite TV mean more fun for everyone.
8. Pink Bar
Located directly at the resort's entrance of Grace Bay Beach, Pink Bar will be open daily with a seasonal menu will include a curated selection of rosé wines and blush champagnes and bites to enjoy during pink hour. The bar will be a rosé-colored feast for the eyes set against the sparkling turquoise Caribbean waters, so pop in and enjoy your pink of choice.
9.Somewhere Cafe Lounge
Somewhere Café and Lounge… Where guests come together for great food and music while enjoying the most beautiful views overlooking Grace Bay. Our beachfront two-story, open-air cafe and lounge offers patrons an oasis of casual sophistication immersed with island hospitality and charm.
Served by our friendly staff, guests can enjoy chef-inspired Tex-Mex cuisine and decadent desserts made in-house from scratch, using only the freshest ingredients and lots of love. Relax and get your groove on while listening to live music, and choose from our extensive wine list or sip on one of our artisan cocktails. All while enjoying a stunning view overlooking the water.